Waterjet Cutting Technology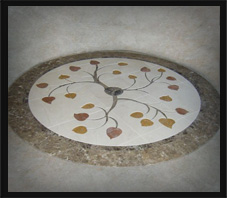 Lane Custom Metal Utilizes Flow Waterjet technology to cut unlimited shapes in virtually any material for all types of industry. Waterjet cutting is a superior machining process comprised of an ultra -high pressure water stream mixed with an abrasive material which will cut the hardest of steels to glass, rubber, stone and because there is no heat affected zone the materials inherent structure is unaffected.

Waterjet cutting is also an extremely precision process often eliminating secondary machining procedures making parts more cost effective to the end user. With a simple sketch or CAD file, drawings are easily imported to the cutting software quickly and efficiently turning raw material into finished parts. Call Lane Custom Metal for all your cutting needs.
Materials Include:
Carbon steel, stainless steel & aluminum.
Stone, granite & marble.
Rubber, plastics & composites.
Glass.
Wood.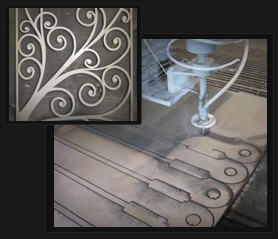 Green Technology
Waterjet cutting is considered a green technology because it does not produce chemicals hazardous to the environment. While waterjet cutting is friendly to the environment, it does not sacrifice performance or effectiveness, as some green alternative methods do. Waterjet cutting is both fully effective and environmentally friendly.
Benefits of Waterjet Cutting
• Cut heat sensitive materials without inflicting heat damage.
• Capable of highly detailed customization.
• Environmentally friendly.

---