Powder Coating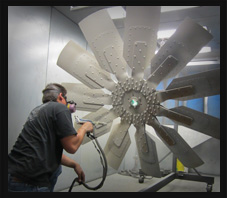 Lane Custom Metal offers a wide range of powder coated finishes for aluminum, stainless steel and carbon steel products.
What is Powder Coating?
Powder coating is a method of painting metallic surfaces by spraying a free-flowing dry powder onto a treated surface. The three steps in the process are pre-treatment, application, and curing. The initial step, pre-treating the object, entails cleaning the surface of soil, greases, oils, and anything that could interfere with the powder's application. Coating the surface with environmentally friendly chemicals will clean the object's surface, as well as increase the powder's ability to bond to the metal. Once the surface has been treated, the powder is sprayed onto the surface, using an electrostatic gun that charges the powder with a positive electrical charge and bonds the powder to the object. Once the coating has been properly applied, the curing process begins. The coated object is heated, allowing for the powder to melt and form perfectly to the surface. Once it is formed to the metal, the object is cooled and the process is complete, leaving a perfect finish.
Why Choose Powder Coating?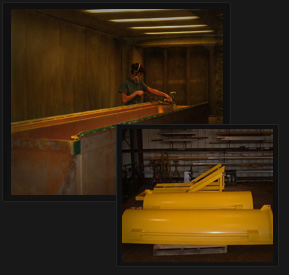 The advantage of powder coating over traditional wet spray paint is that powder coating can offer a much thicker coating, without running, resulting in a smoother finish. Another advantage to powder coating is that it does not produce the harmful, volatile organic compounds that traditional paints do. Any and all over-spray of the coating can be recycled, making it cost-effective to the user. As an environmental bonus, the powder coating production is not as environmentally hazardous as liquid paint production.
Advantages of Powder Coating
Thicker, smoother finishes.
Safe and easy application.
More environmentally friendly than traditional wet paint.
Produces specialty effects that could not be accomplished by other painting methods
Applications Include:
Industrial Equipment Coatings.
Interior and Exterior Architectural Finishes.
High Temperature Coatings.
Custom Metallic Finishes.