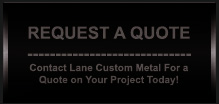 LANE CUSTOM METAL
Lane Custom Metal is a full service welding and fabrication company offering fabrication, water jet cutting and powder coating.
Based in Lafayette, Louisiana and serving the Gulf South, Lane Custom Metal has created a solid reputation for producing quality metal products serving multiple industries since 1987. We have provided services to customers from commercial and residential construction to oil and gas production.

On a daily basis, Lane Custom Metal works with engineers, architects and designers on a variety of projects.

These unique and diverse skills have made Lane Custom Metal a one stop shop for an unlimited product line in all types of materials from carbon steel, aluminum, stainless, bronze and exotic alloys, to stone glass rubber and wood.